ABOUT DISPLAY WAREHOUSE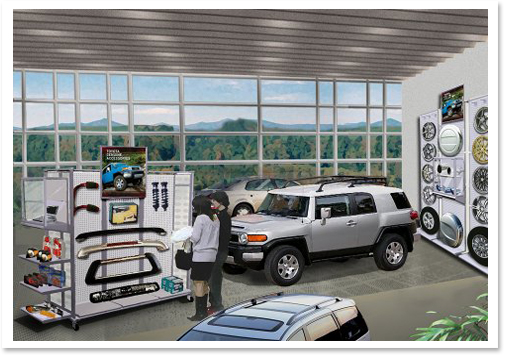 We believe a vehicle purchase is just the beginning of your customers' shopping experience. We also believe that parts centers should do more than sell auto parts and accessories, they should also sell a lifestyle.
"Parts and accessories have become an essential extension of today's new cars, SUVs and trucks, and a reflection of consumers' lifestyles," says Dan Jacus, President of Display Warehouse, a TMS approved retail fixture supplier in San Diego, California. "Display these products the right way and it will be clear to your customers that accessories can add value to their vehicle purchase."
With our approach to Lifestyle Merchandising, we help you present products in a way that turns them into "must-have" items for your customers. We create effective visual displays that meet the high expectations of retail merchandising and produce desire within the customer to help ensure they leave with purchases in hand.
For over 20 years, Display Warehouse has been behind the design and construction of some of the most successful dealership showrooms in the United States, including Toyota, Honda, BMW, Ford, Chevrolet and so many more! We customize logical and visually appealing merchandising displays by listening and responding to you.
We will help foster your customer relationships by transforming your Parts Department into a lifestyle center where customers can interact with and purchase branded items to customize and accessorize their vehicles. We will also provide retail fixtures and custom-made signage to complement and
coordinate with your decor.
WE OPTIMIZE YOUR SALES FLOOR
Most customers fall into one of two categories: impulse buyers and "do-it-yourselfers." Both customers represent an opportunity to boost your Parts Center sales, but you only have a few seconds to entice them to spend and keep browsing. Why? Customers are environment sensitive. They want to see more than displays with products, they want to see diverse products displayed together in logical groupings and categories that are easy to find and easy to understand.
With Display Warehouse's expert guidance and talented, visionary staff, we will help you take the guesswork out of designing your parts center. Let us share our know-how in ways that will benefit you and your customers and optimize sales. Because at Display Warehouse, we know effective visual merchandising works best with fixtures that are flexible and present
merchandise in a way that grabs customers' attention and ensure sales.
Included in our services, we offer full drafting and design services capable of taking a project from initial concept through development, testing, prototype, production and installation. Here's our process: click here